May 21, 1917 After the Storm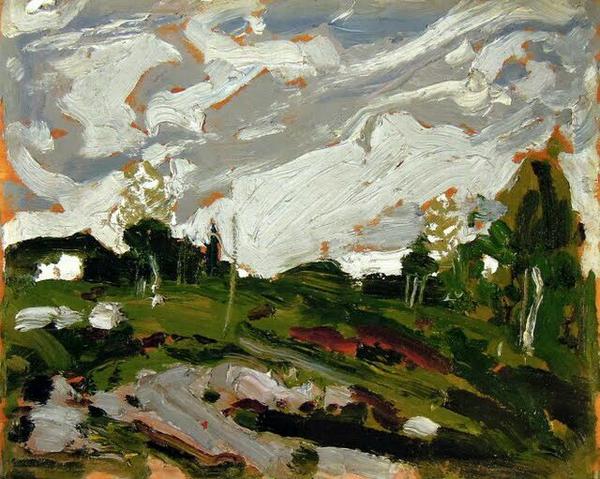 We woke up wet. Soaking wet. It rained all night and despite my best efforts to set up the tents so there were no leaks, the rain came in. In my other travels, I've been in this situation a few times. It can be miserable, but eventually the rain breaks and the sun comes out and you can dry things out. The key to getting through this type of situation is faith that the weather will eventually change, and everything that is wet and stinking will eventually dry up and smell sweet once again.
Unfortunately, the city folk don't understand this Northern version of faith, and when things get wet, they get all panicky and irritable. That was the situation with Dr. MacCallum and Arthur today. I could see that they were trying to be as stoic as possible but they wanted to dry out by an indoor fireplace. I would have entertained another night of camping but I was a bit concerned about Charlie. The consumption was getting to him. He tried not to show it but I could see it. A good guide carefully reads his group before providing honourable options when a trip needs to end. I suggested that we canoe back along the Oxtongue into Smoke Lake and stop by for some tea at Nominigan Lodge. This would provide a brief respite from the misery. After that we would make our way back to Mowat Lodge by late afternoon or early evening where Annie would be sure to have some dinner for us. No one protested so I assumed full agreement. Like a captain on a ship, I had full authority. I figured the slight detour to Smoke Lake would not look like a desperate beeline back to Mowat so it wouldn't seem like a defeat. Dr. MacCallum hadn't yet seen Nominigan so this would be his opportunity to see what a real tourist outpost looked like. Luxury and all.
When we canoed to Smoke Lake another thunderstorm came in. It lasted about 45 minutes with the rain and when it stopped, I decided that the Dr. needed another en-plein-air experience. The sky had shades of purple and offset against the deepening green of spring made for a nice picture. I pulled the canoe to the side, hopped on a large rock by the shore, pulled out my sketch box, and was sketching full tilt before Dr. MacCallum could even get himself out of the canoe. Charlie and Arthur waited a few feet offshore. It's really too bad that no one brought their Brownie, because it would have made a fine picture of the Dr. and me. After about a half-hour, I was done the sketch. I packed up and we set off for Nominigan. There we had tea and biscuits. Some newspapers were lying around so we smoked our pipes and read the latest news. The headlines were about Borden being back in Canada drumming up support for the Conscription bill. I didn't need to be reminded that I would be called up if the bill came to be.
When everyone dried out, we started again toward Canoe Lake. It wouldn't be a long trip back, but I decided to take a slightly different route that involved a short portage. A canoeing experience for a city-dweller is not complete without a portage. For some strange reason it gives city folks a sense of invincibility – that they can conquer land and sea. I've learned on my trips to ensure at least one portage, even if I had to carry everything – canoe and all.
We got back to the Mowat Lodge around 6 p.m. in the evening. I could see from where we landed the Blechers and the Trainors were there. The lanterns were on and smoke was coming from the chimneys. It looked like Winnie was hard at work getting the Manse clean for summer. It always takes a few good cleanings to get the dust and mildew out of the corners. Windows are a labour intensive task, but from where I could see, the windows were looking clean. The front porch also looked to be scrubbed from stem to stern.
As I was bringing up the canoes Winnie came out to greet me. She said she saw our canoes in the distance and was sure it was us. That was earlier in the afternoon, so it wasn't us. The only thing I could think of were poachers. Mark Robinson said to keep an eye out, but I never saw any. Who was on the lake at that time was anybody's guess. Winnie was happy to see me. I said I would come down later once I got the boys sorted out of their canoe gear at the lodge and taken care of with Annie's cooking. But I ended up seeing the evening out with Shannon with some whisky which he produced from his secret stash in the storehouse. We sat on the porch and talked until the early hour. Dr MacCallum, Arthur and Charlie turned shortly after having dinner, about 8:30.
I told Shannon that I was done my sketches. He's excited about the dinner and art show and is a fine idea to celebrate Victoria Day (this Thursday). He suggested that we invite some folk down from the Algonquin Hotel, and some of the neighbours. If everyone accepted, we'd have a party about of 45-50. Of course, Shannon was thinking about charging non-lodge guests for the dinner to make some extra cash. I said I would leave the details to him. So it was set – Thursday would be the art show. To further the excitement and festivities I would ask Lawrie Dickson to bring up his Victrola and George Rowe to procure some fireworks. I knew George, if he couldn't find fireworks, he could improvise with dynamite and kerosene. He could set up a bonfire that could be seen (and possibly heard) across the lake.
I realized I was supposed to go back and see Winnie tonight. I'll go see her in the morning.